---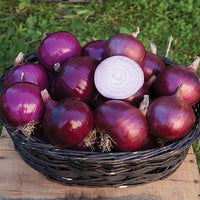 From High Mowing Seeds:
The earliest red storage onion in our trials, with lovely uniform burgundy bulbs.
Medium-sized bulbs with very nice internal color plus a stroke of brilliance: stems flop down without crimping before maturity, allowing continued growth while preventing disease from reaching the bulb. Stores well, but is also beautiful bunched for fresh market sales. Widely adapted for both size and earliness.
Late intermediate day
Stores 4-6 months
3-4" bulbs
 6 pack - (contains 20-30 onion plants)